Short Term Rental Property Investment?
AirBnB Pre-construction Condo Opportunities in Miami
It's no secret that there's money to be made in short term vacation rental investments, particularly in a year-round sunny location with great beaches, awesome nightlife, and legendary shopping, such as Miami. In fact Airbnb rental hosts in South Florida welcomed some 1.47 million guests in 2018, earning about $315 million in the process. And business is booming as more and more tourists visit South Florida yearly.
Miami a Top Pick for Airbnb Investment
Ironically, while Miami is an ideal location for Airbnb investment property, Airbnb did not exactly encounter a welcome committee in Miami, and particularly in Miami Beach, where the local hotel industry wields lots of power and influence. In fact, the city of Miami Beach and Airbnb have been in litigation for a couple of years now. Property owners have been fined as much as $20,000 for listing their properties on short term rental sites such as Airbnb.com, booking.com, and others.
New Airbnb-approved Condo Projects Have City's "OK"
Luckily, Miami is known for its brilliant and versatile development solutions. In fact, several new Airbnb-approved condo projects are currently under construction or in pre-sales, providing a Airbnb rental investment strategy for interested buyers looking to buy a piece of this market by purchasing one or more short-term rental investment properties.
Here is a list of Miami's up and coming projects that are approved for short-term vacation rentals, where you can get a great deal by paying pre-construction prices.
Smart Brickell
229 SW 9th St, Brickell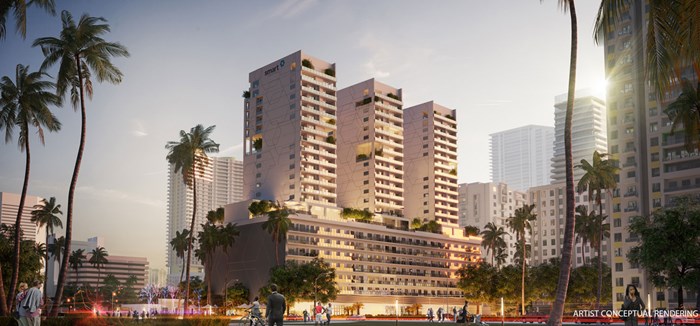 Smart Brickell is Miami's first totally Smart development, featuring three towers, and inspired in a smart living philosophy that integrates technology with contemporary design and versatile usage. Designed for young working professionals, condo units start at 538 square feet and prices start in the low $300,000's.
Only two blocks from Brickell City Center, Smart Brickell provides plenty of pedestrian-friendly access to Miami's top dining and shopping options. Properties are approved for short-term rental, incorporating a new Airbnb platform designed to simplify the rental process for investors, and even include custom furniture.  As of this writing, the developer has announced that sales in the first tower are already nearing 90%.
Yotelpad Miami
227 NE 2nd Street, Downtown Miami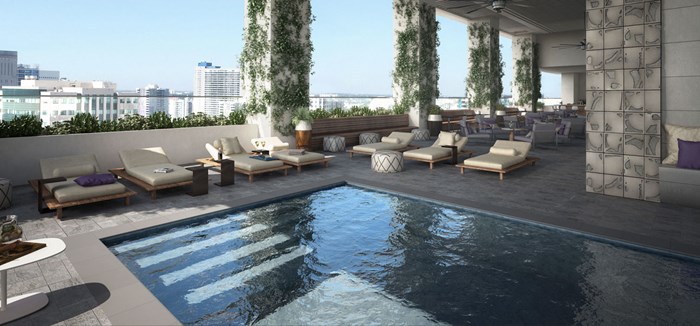 Yotelpad is a project currently under construction that has taken investors by storm, with 90% of its 231 residential units already sold, making it one of the fastest selling projects in Miami history (according to them). The project will also include 222 hotel rooms, and is set to open in 2021.
With easy access to Wynwood, the Downtown Arts District, and Brickell, Yotelpad is optimally located. Buyers will have no restrictions on rental of their units, including short-term rentals on a daily, weekly, and monthly basis, through sites such as Airbnb, booking.com, and others. Unit owners may also rent out their units through the building's hotel rental program. Unit prices range between $319,000 and $439,000.
Natiivo
190 NE 6th Street, Downtown Miami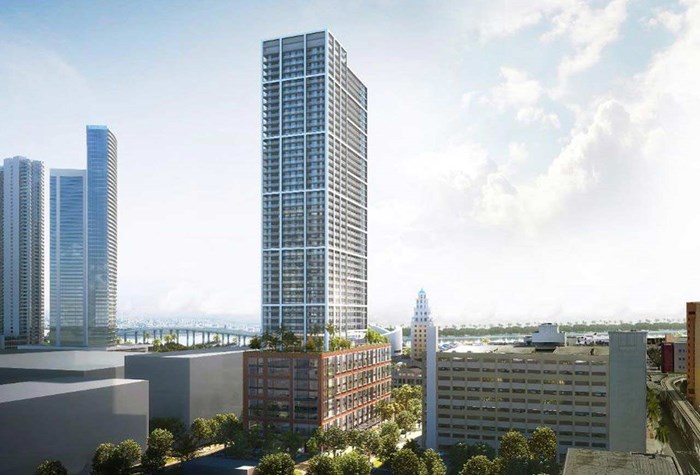 Located in the heart of rapidly transforming Downtown, Natiivo is an Airbnb-branded hotel-condo property with 48 stories and 600 units, including 400 condos and 200 hotel rooms. Airbnb is collaborating on design for the building's interiors and common areas. Unit owners may rent out individual rooms or entire units through the Airbnb platform, either on their own or through the building's hotel rental program. Natiivo is scheduled for completion in spring of 2022, and unit prices start at $300,000.
Oleta House
1700 NE 164th St, North Miami Beach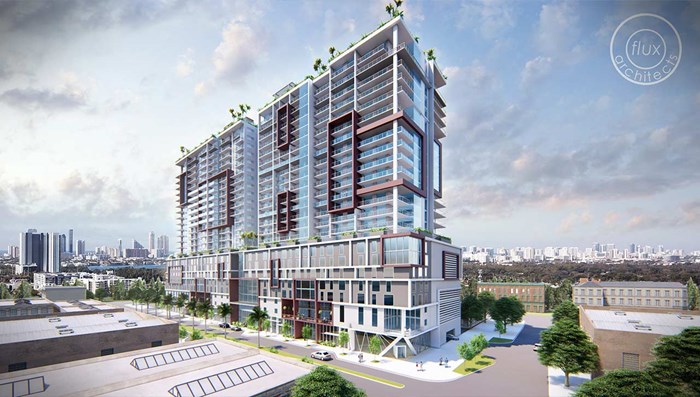 Off the beaten path in North Miami Beach, Oleta House offers 328 Kosher-friendly condominium units and 8 Penthouse units priced between $240,000 and $1,309,000. Located near Aventura, Sunny Isles, and Bal Harbour, and a short drive from South Beach and Downtown Miami, the building houses efficiently designed residential units combining luxury and comfort at an affordable price. Owners may rent out their units through Airbnb, Booking.com, Vrbo, and other sites, and rental terms may be by the day, week, or month.
Miami is a Haven for Short Term Rental Investment
Not only is it a wise investment to purchase a pre-construction condo that can start generating income for you from the moment construction is completed – the additional perk for these Airbnb-approved condos is that you can also save money by using it to host your own vacations as well as renting it short-term to out-of-town guests, which means you'll get the absolute profitability from your Airbnb investment.
https://members.luxhomepro.com/wp-content/uploads/2019/07/00-airbnb-precontruction-oleta.jpg
535
800
Dtrsgxt23
/wp-content/uploads/2018/02/LuxHomePro-logo-500.jpg
Dtrsgxt23
2019-07-11 16:36:04
2019-07-11 16:42:08
Short Term Rental Property Investment?